Model number: EC685.R/M/W
---
Features ⇣
Enjoy authentic espresso in your home with the De'Longhi Dedica Style Manual Espresso Machine. The user-friendly controls and ultraslim 6" or 15cm width design takes up little space on your kitchen countertop and brings the brewing power into your hands, conveniently at home. The adjustable milk frother allows you to adjust the foam and steam levels to customize a variety of delicious espresso-based drinks with little to no effort. A sleek, ultra-compact espresso machine that brews a variety of barista-quality espresso and milk-based espresso drinks at home.
Fast heating time (40 seconds)
Flow-stop function to personalize your coffee length
15-bar professional pump
Pressurised filter basket for ground coffee (1 or 2 cups) and E.S.E. Pod
HANDCRAFT YOUR SPECIALITY COFFEE
Have you always been fascinated by the barista behind the counter and how they bring your coffee into life? De'Longhi's pump espresso machine, Dedica, is designed with years of research to create technologies that can extract your coffee perfectly, along with a small footprint, high quality built and compact size.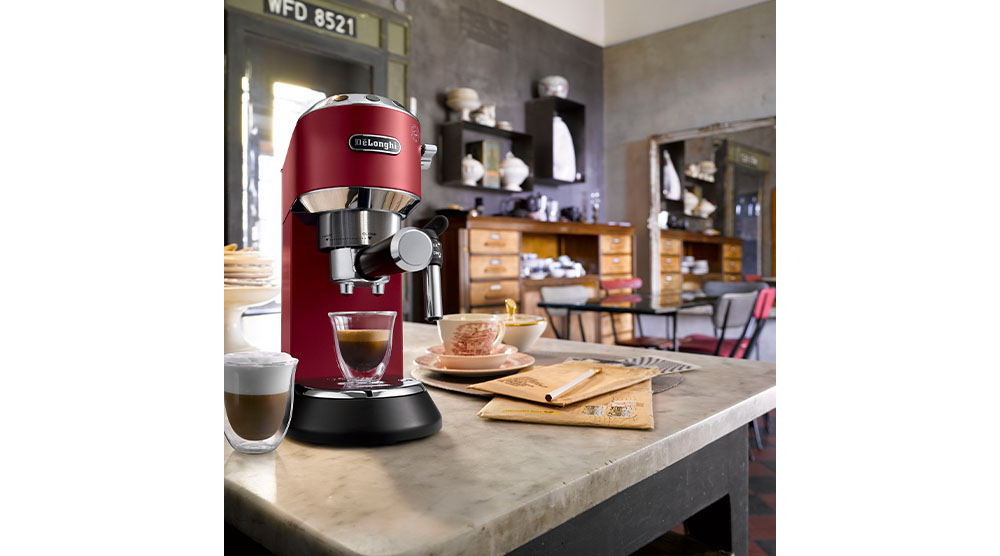 PERFECT COFFEE BEGINS HERE
Recreate the café experience at home and prepare exceptional coffee easily and conveniently. Equipped with the adjustable cappuccino system, you can choose between flat or foam function that is designed to automatically froth to your desired milk consistency for your coffee recipes. This allows you to achieve fuss-free and no-fail milk froth every time.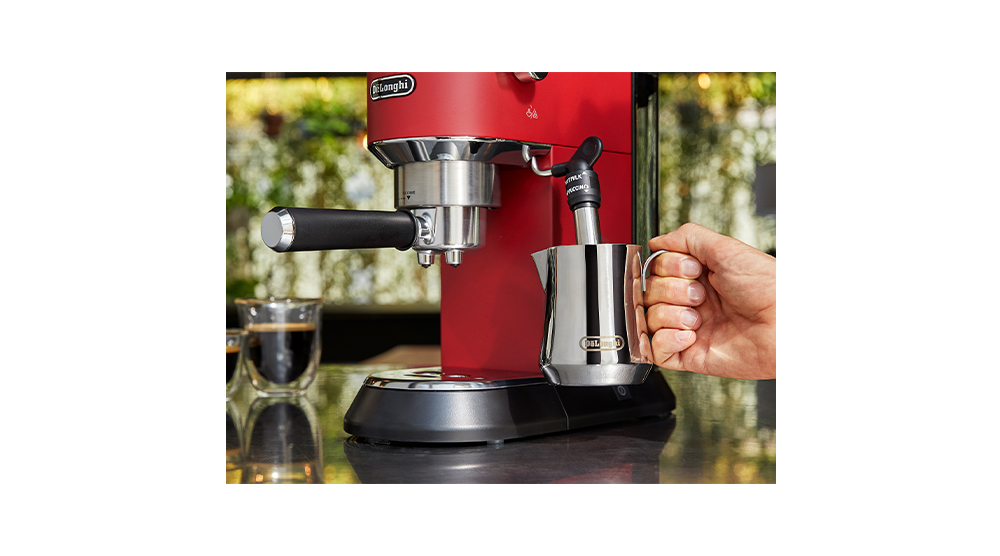 RETAINING THE FLAVOURS
Coffee flavours and extraction are easily affected by the temperature, and It is important to have your cups warmed up before you fill your coffee in. The convenient cup warmer on the top is able to hold up to 2 cups, allowing you to savour the coffee flavours without much temperature variances.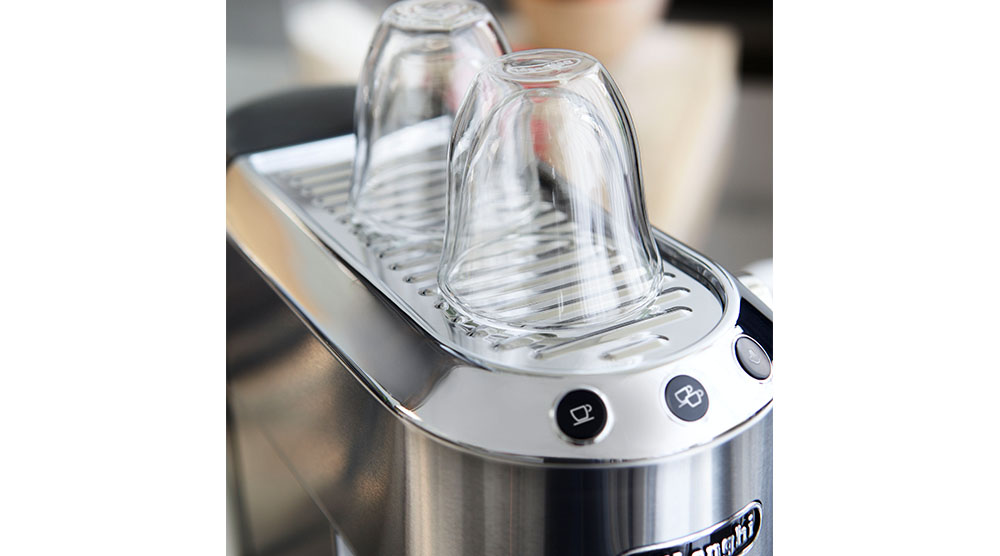 GETTING THAT PERFECT SHOT
With the pressurised portafilter, getting your perfect crema and espresso flavours is easier than ever. The different variables in pulling a good shot can be better controlled as the pressured portafilter makes it easy to dial in your perfect shot even when you are changing different beans each time.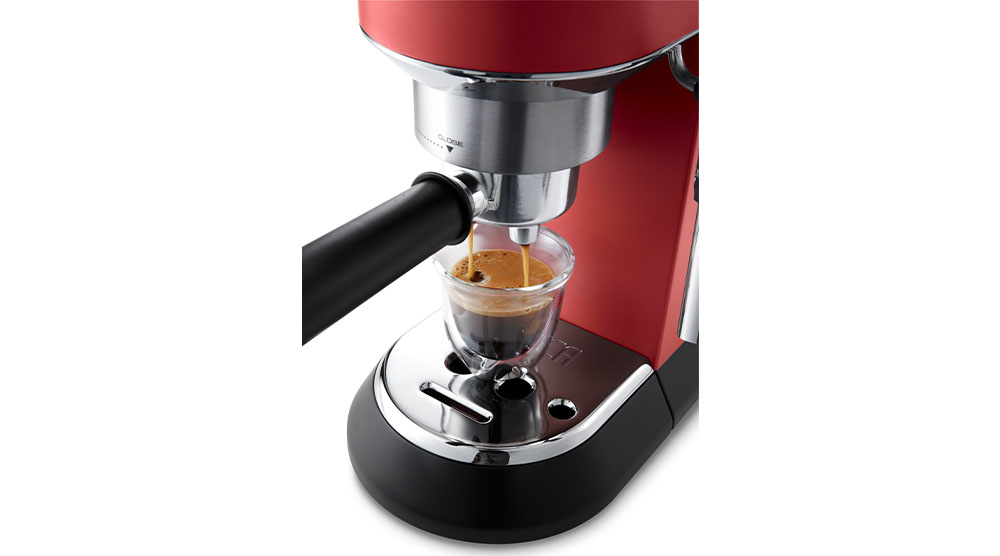 VERSATILE AND COMPACT
For a fuss-free cup of coffee, the Dedica is fitted with a removable double drip tray that allows you to fit cups up to 12cm tall. This allows you to dispense directly into your favourite cup and enjoy your drink as soon as you brew it.
CUSTOMISING TO YOUR TASTE
The easy-to-use control panel with 3 illuminated buttons allows you to toggle between different customisation capabilities. Adjust the duration of extraction and even the temperature of your brewing water to your desired preferences. This allows you to customise and personalise your coffee to your desired taste and coffee bean flavours to delight your taste buds and excite your senses.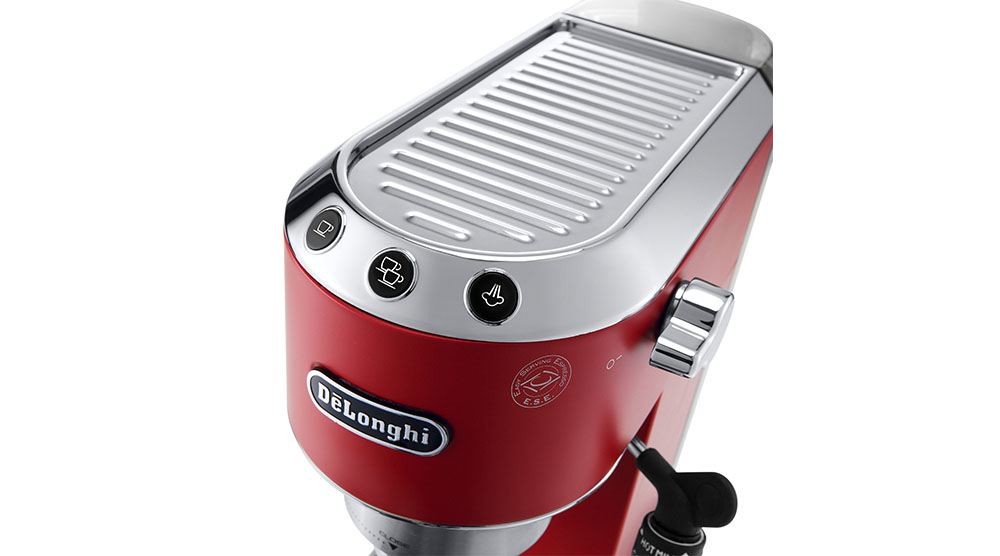 YOUR COFFEE, YOUR CHOICE
The coffee machine comes with 3 filter baskets, 1 cup basket, 2 cups basket and an E.S.E. (Easy Serve Espresso) pod basket. The 1 and 2 cups basket has a removable layer so that you can wash the filters to ensure that your coffee is not contaminated by grounds from previous extractions. These options allow you to explore coffee beans of different flavours to make your perfect cup of coffee.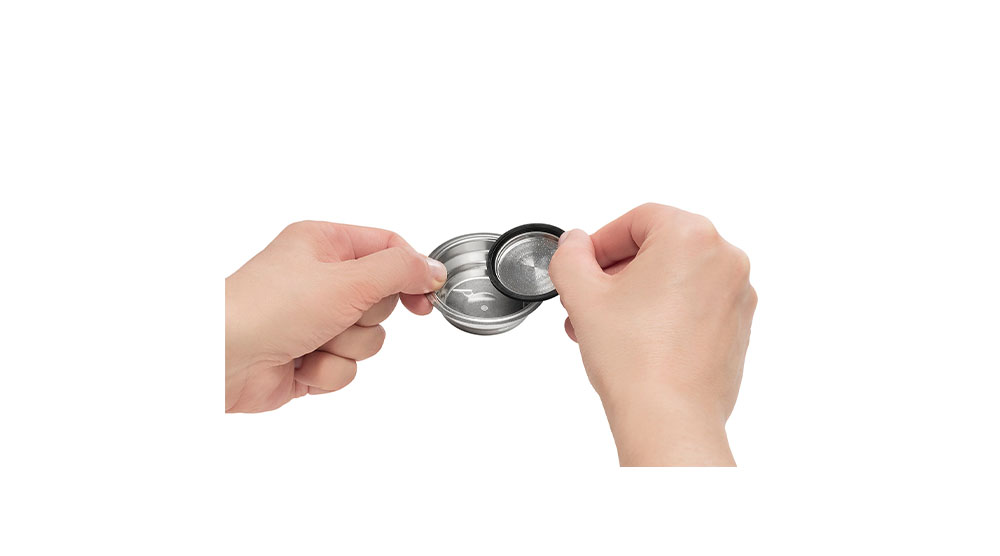 MAKING IT EASY FOR YOU
All the removable parts of the coffee machine are dishwasher safe. Depending on your usage frequency, the machine is also equipped with a thoughtful descaling function that will alert you when it is time to perform a descaling cycle. This allows you to devote your time to focus on perfecting your coffee making skills at home.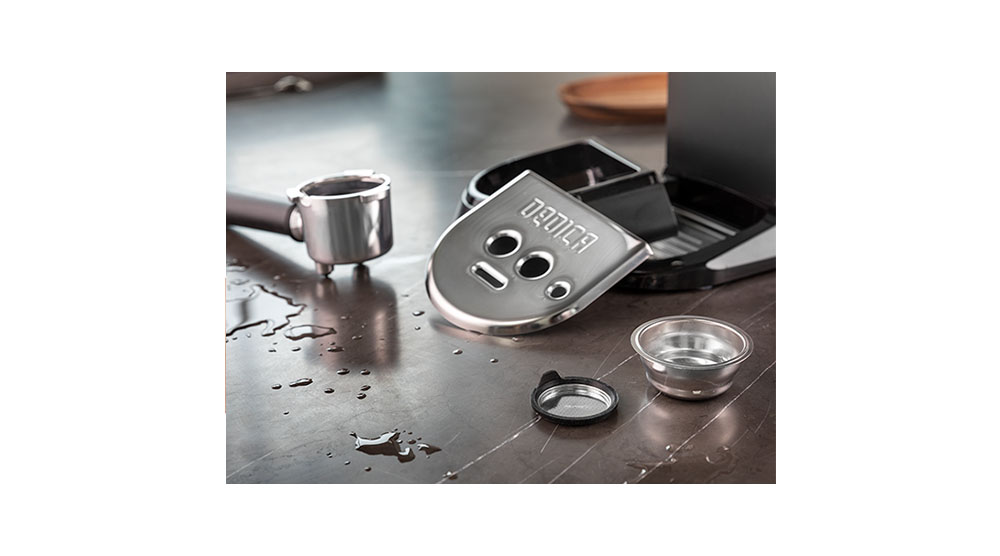 ---
Core Technology ⇣
CONSISTENCY IS KEY
The 15 bar pressure and the unique thermoblock technology is designed to keep the water at the perfect temperature to extract intricate flavours and nuances of your coffee bean, making a perfect espresso perfectly every time. It is also equipped with a customisable energy-saving mode so that you can ensure that your machine is kept idle when you are not using it.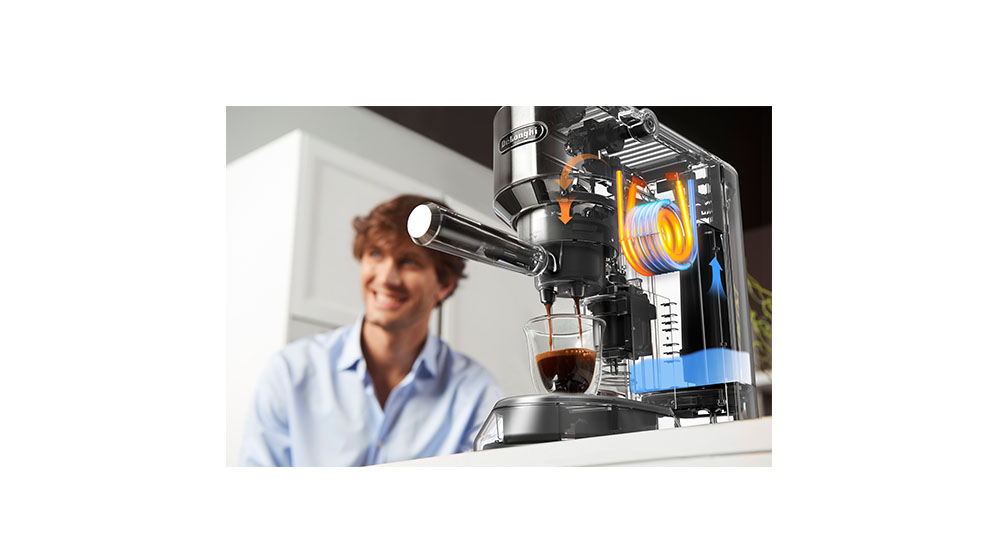 PERFECT MILK EVERY TIME
The adjustable manual milk frother is one of De'Longhi's patented technology that is designed after years of research to make your coffee crafting journey easy and convenient. This feature helps you to easily create smooth velvety milk using the 'FLAT' function or thick creamy foam using the 'FOAM' function for your cappuccino.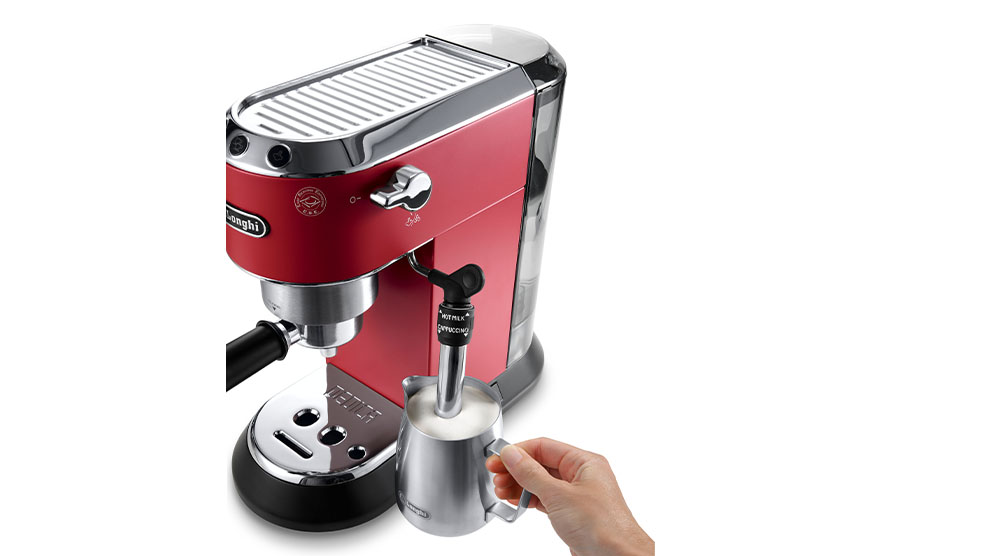 FOR YOU AND YOUR LOVED ONES
The water filter cartridge can be fitted into the water tank to filter out any impurities in your water. This ensures that the coffee taste is not affected during extraction, and protects you and your loved ones.
*The water filter is an optional accessory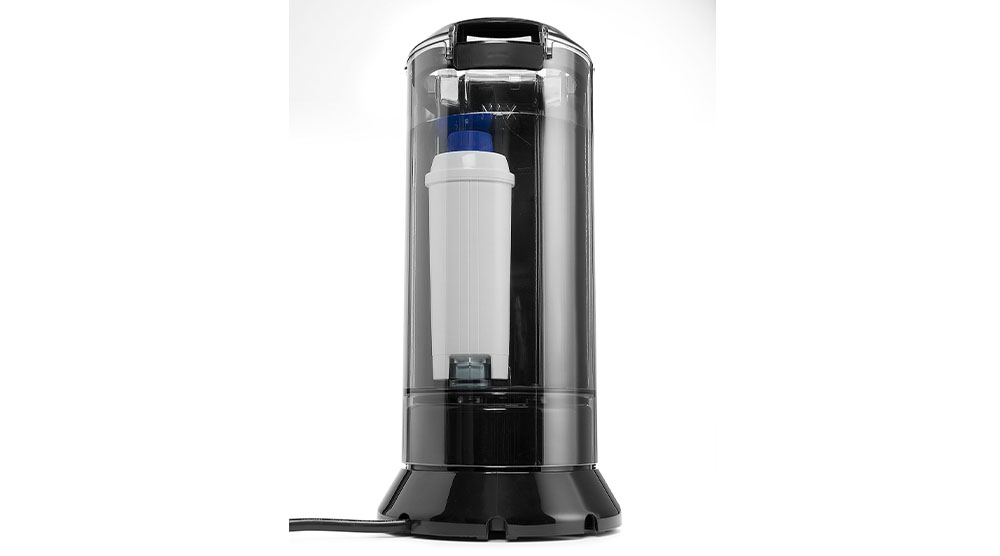 ---
Your Handcraft Coffee Journey ⇣
THE COFFEE LOVER'S FAVOURITE
If you're a coffee-lover, you'll know how important it is to have a grinder to ensure you preserve the aroma of your coffee beans. The Dedica grinder KG521 is here to complete your coffee set-up so you can start brewing fresh coffee today.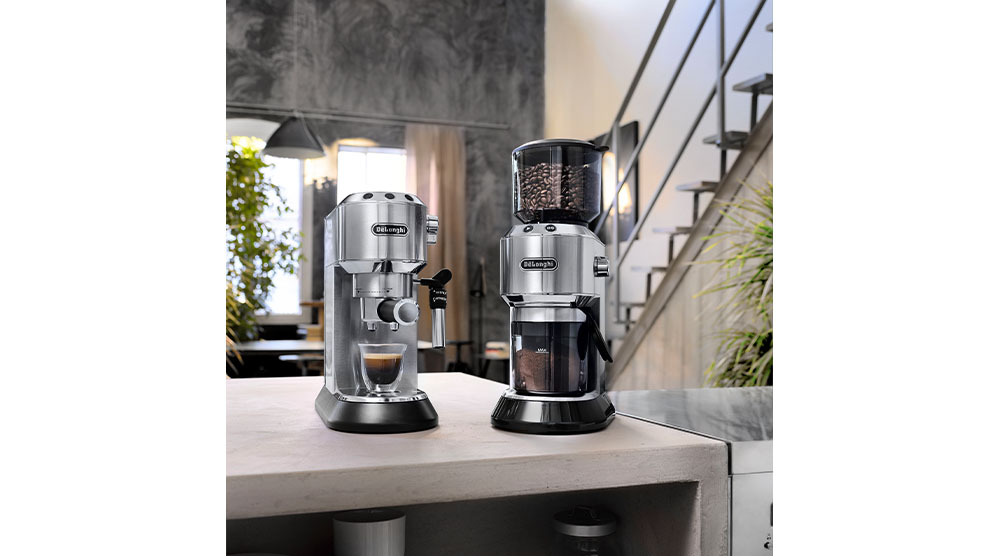 THE BREWING ESSENTIALS
Every barista has their own tools and accessories and here's what you'll need to start your coffee crafting adventure.
• Dedica grinder – For freshly grounded beans with full aroma
• Whole coffee beans – For optimal freshness and flavours
• Professional tamper 51mm – For even and consistent tamping
• Milk frothing jug – To make frothy milk
• Coffee Knock box – To knock out coffee grounds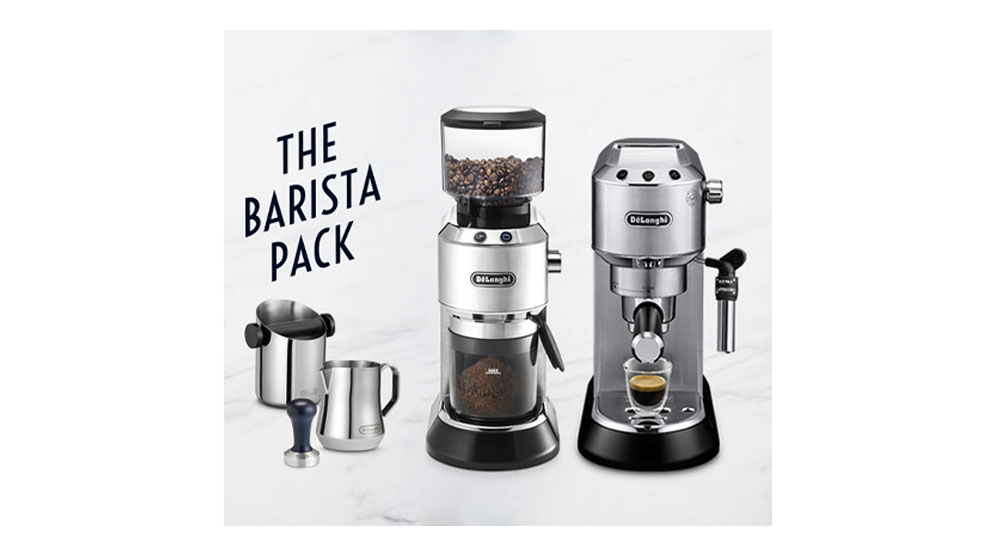 ---
Specifications ⇣
| | |
| --- | --- |
| Cup warmer | Passive |
| Heating system | Thermoblock |
| Milk system | Adjustable Cappuccino System |
| Number of filters | 3 |
| | |
| --- | --- |
| Dimensions (wxdxh) (mm) | 149x330x304 |
| Input power (W) | 1300 |
| Maximum cup height (mm) | 120 |
| Pump pressure (bar) | 15 |
| Rated voltage/Frequency (V~Hz) | 220-240 V / 50-60 Hz |
| Water Tank Capacity (l) | 1.1 |
| Weight (kg) | 4.2 |
| | |
| --- | --- |
| Body material | Metal / Stainless Steel |
| Colour | Red / Silver / White |
| Finishing | Matte metallic |
---
What's in the box ⇣
x1 Dedica Style manual pump coffee machine
x1 Portafilter holder
x3 Filter baskets (single shot, double shot, E.S.E pods)
x1 100ml EcoDecalk descaler solution
x1 2-in-1 plastic tamper and scoop
x1 Removable cup holder tray
[HOW TO VIDEOS]
Learn how to use your Dedica Style manual pump coffee machine:
- Setting up
- How to start making espresso
- How to programme your espresso shots
- How to froth milk
- How to cool down the boiler
- How to descale your coffee machine
Powered by Froala Editor