Model number: ECP35.31
Choose your favourite blend or pod and simply brew your rich, smooth Espresso with a perfect crema
Brew a wide range of milk based beverages thanks to the adjustable Cappuccino System
Create extra space for your mug by simply removing the drip tray
---
Features ⇣
15 Bar Pump Pressure
The pump provides optimal infusion pressure in every brewing cycle, resulting a perfect, creamy, dense and aromatic coffee.
Stainless Steel Boiler
With two separate thermostat, making sure your coffee is brewing at the correct temperature and hot enough to produce steam for frothing.
E.S.E Pods Compatible
For those who likes hassle-free and tidy kitchen counter, it fits the coffee pods with Easy Serving Espresso (E.S.E) standards.
No Compromises in Brewing
Equipped with two separated thermostat to ensure your coffee is delivered at the perfect temperature for a perfect crema, while hot enough to steam the milk.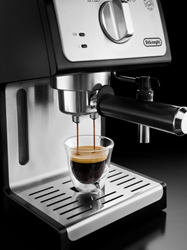 Cappuccino System
Indulge in silky smooth milk or velvety-soft foam with this Advanced Cappuccino System, providing you with adjustable controls and consistent results. Just switch the sleeve between CAPPUCCINO and HOT MILK, it will provides you different texture of milk foam. It will deliver hot water as well when you need it.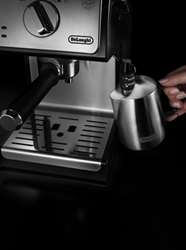 Simplicity to Use
Turn the selector dial to the right for coffee or hot water; left for producing steam to froth milk.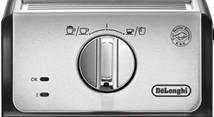 Front Water Window
Keep you informed how much water is left in the water tank.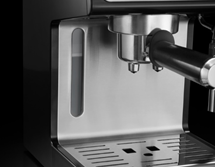 Double Drip-Tray
Able to fit in glasses as tall as 13cm.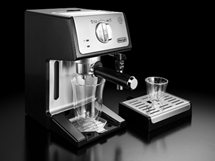 Portafilter Storage
A dedicated space to store your portafilter.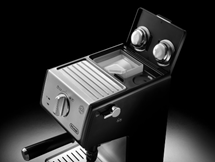 Others:
Professional filter holder with aluminium finishings
Exclusive drip tray for mugs
Transparent and removable water reservoir (capacity: 1,1 l.)
Adjustable Cappuccino System": two levels froth regulating system; creamy froth or hot milk.
Hot water function.
This appliance can be used either with ground coffee (1 or 2 cups) or with the "Easy Serving Espresso" pods.
Electronic auto off system
Single buttons with indicator lights for On/Off mode, and for selection of espresso and cappuccino
2 separate thermostats to control water and steam temperatures
Metal Cup warmer
Steam emission regulating knob
Removable drip tray
Accessory storage facility: set of filter for one cup, 2 cups and for pods.
External coffee tamper
---
Specifications ⇣
| | |
| --- | --- |
| Colour | Black color body with s/s panel |
| Materials | ABS plastic body with s/s trim. |
| Dimensions (cm) | 19 x 24 x 31 |
| Capacity | Removable water tank 1,100ml |
| Pump Pressure | 15 Bar |
| Portafilter Capacity | Single – 7g, Double – 15g (could vary based on the ground finesse) |
---
What's in the box ⇣
x1 Active Line Adjustable Pump Espresso Coffee Machine